The DCG team has the ability to help you with every aspect of the design/build stage of your construction project. We are not afraid to admit that we work with subcontractors because we understand that we cannot be experts at everything. Therefore, we will start by introducing you to a design team: hand-selected for your particular needs. With the design team, you will review industry reports for practical and pricing information, and will even be able to decide which design features and materials work best in the space that you imagine, including where electrical outlets should be placed and how room layouts should be configured. We pride ourselves on being able to help our clients develop site plans to meet all future needs. After this stage is the build! Through the building phase, we will be available to address any questions and concerns that you may have. We want to ensure that the building is fully meeting your expectations at all times.
Pre-Engineered Metal Buildings Systems Virgina
Our network of partners and subcontractors is one of our main assets, which allows us to say with confidence: DCG is ranked as one of the top metal building contractors in Virginia. We have the knowledge, experience, partners and professional relations to build any metal structure or metal building for your business. We focus on PEMB (Pre-Engineered Metal Buildings) because in our experience it is the most cost effective way to design and build a top-quality metal building or structure. Our strategic partners, professional network and subcontractors are all highly qualified. We always find sound solutions to every area and stage of the project that prove to be of high quality and cost effective.
Nucor Metal Building Systems
The buildings are designed by a flexible team of architects, engineers and contractors and then manufactured by the top Steel Building Manufacturer NUCOR Building Systems, a division of Nucor Corporation, as industry leader in the design and manufacture of custom-engineered metal building systems for nearly 30 years. They do custom metal building design with BIM 3D technology, as well as to subscribe to follow the MBMA (Metal Building Manufacturer Association) metal building guidelines and specifications.
Take a look at our Metal Building Projects for examples of our work in partnership with Nucor Metal Building Systems. Our team of top ranked metal building contractors is always available to discuss your plans and ideas. DCG is well known for Metal Building Systems Virginia and surrounding areas.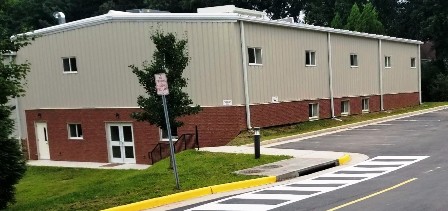 The building is a pre-engineered metal building structure with masonry accents to blend with the surrounding buildings.
Fill out our contact form here or call us at 540-428-3612 for more information about DCG metal building systems Virginia.