Metal Building Contractor Ijamsville MD | DCG is building two new pre-engineered metal buildings in Ijamsville, MD. Both buildings will be 10,323 square feet. This space will house future office space and bays for tenants. DCG will be furnishing and installing the Nucor Metal Building Systems.  See the metal building progress shots from the Frederick Preserve job site below.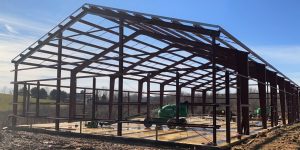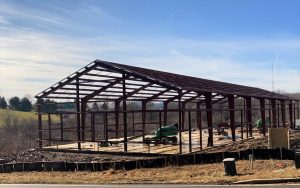 Metal Building Systems
The DCG team specializes in pre-engineered metal building systems. DCG is ranked as one of the top metal building contractors in Virginia. We have diverse experience in constructing metal building systems to meet your needs. Our understanding in this specialized construction area allows us to use proven construction methods to successfully complete your metal building project. We are proud to partner with Nucor Metal Building Systems for the design and fabrication of metal buildings.
Metal Building Systems Nucor Building Systems and DCG
From fire stations to school gyms and warehouses, we have the experience needed to help you create a customized and sturdy metal building that will last for years to come. When you choose a Nucor metal building system with DCG Construction, you'll have access to numerous exterior options, including canopies, fascia, and parapet walls, which can enhance the overall look of your building.